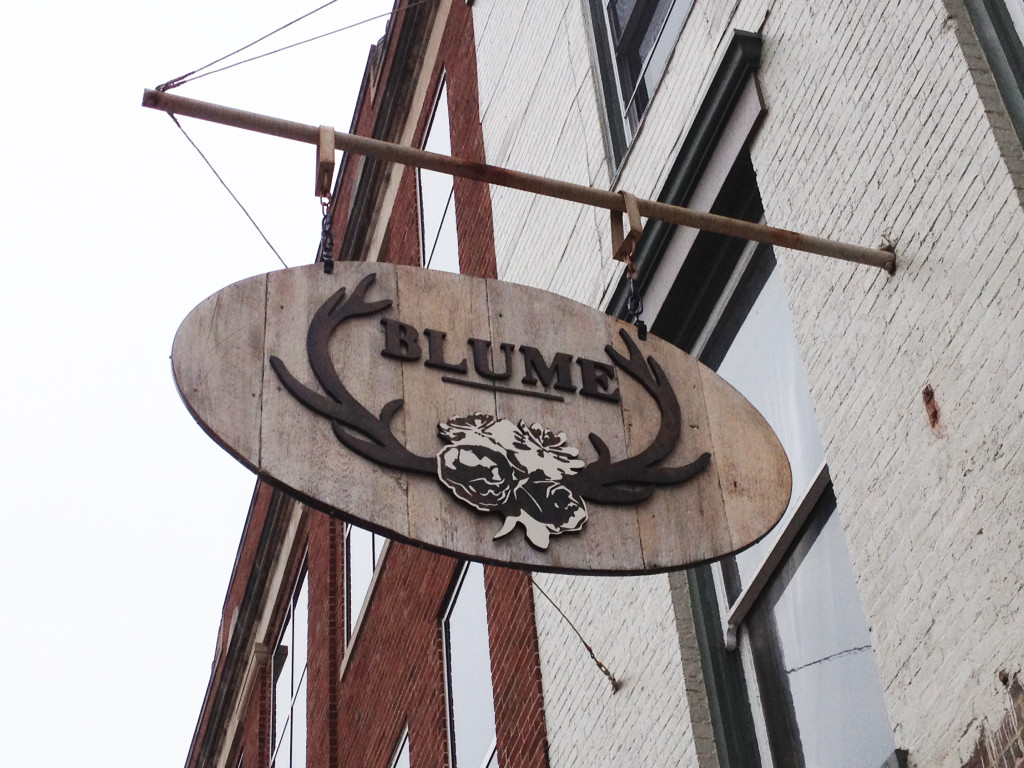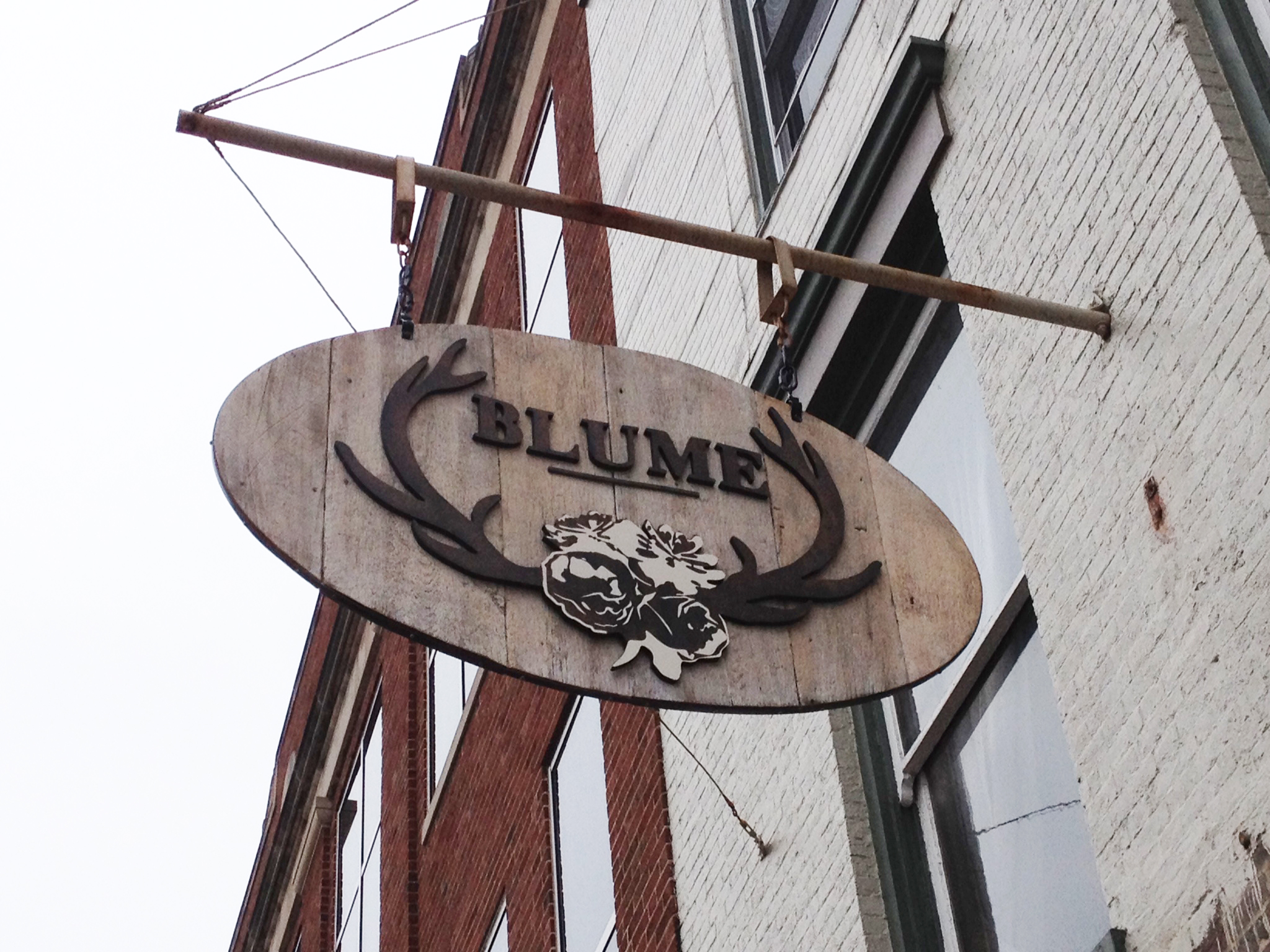 Product: Hanging Sign 
Location: Cincinnati, Ohio
Client: Blume
Business retail signs come in many forms and styles. Business owners know that signage is the first impression a customer will have of the quality of the product or services. A FedEx survey published on May 14, 2012 "… found that almost eight in 10 (76 percent) American consumers enter a store they have never visited before based on its signs, and nearly seven in 10 (68 percent) have actually purchased a product or service because a sign caught their eye. A small business' sign can also be an influential word-of-mouth marketing tool, with three out of four consumers saying they have told someone about a store based simply on its signage."
Choosing the style of a sign is not an easy task. The style of the sign needs to reflect the culture of your store and the image you want to project. You wouldn't pick a vintage sign for an electronics store. You wouldn't pick a classy and elegant sign for a child care facility. Each sign needs to be unique to the vision of the owners.
Our customer, Blume, opened a boutique retail store in Lebanon, Ohio, that sells vintage and homemade products. The owners requested a sign that would attract customers to their store in this quaint town of 20,000 located in the heartland of the country. The store is located on the very active main street of the downtown area. Pedestrian traffic walk this downtown street to shop and enjoy the cozy restaurants and boutique shops lining the street.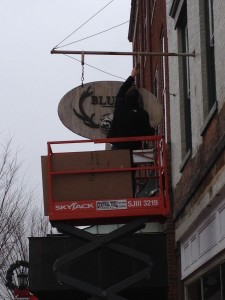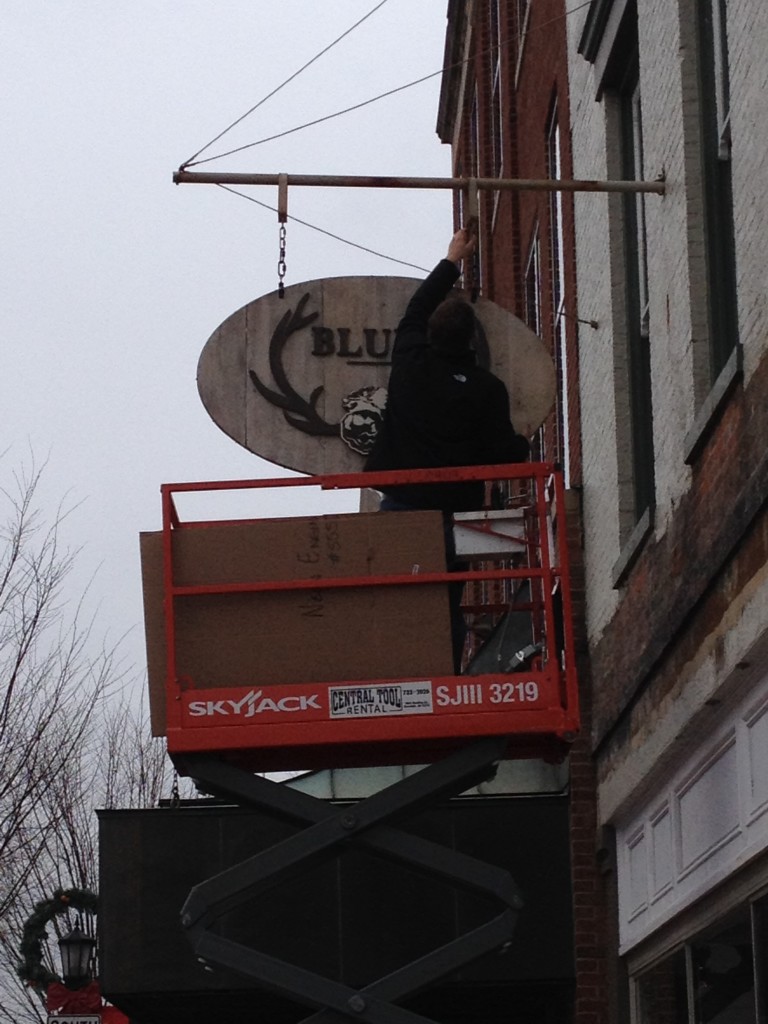 The owners and Cincinnati Custom Signs' personnel put their minds together to come up with an incredibly unique rustic sign. The sign is made of old barn wood handpicked by the owners of Blume. The wood was cut and joined together; finished with a metal strap around the exterior. The wood was then whitewashed to the owners' liking. The logo and letters are made of PVC and custom painted with layers of paint to imitate the look of old metal. The attractive, double-sided sign catches the eyes of passersby as it hangs from its prominent 25′ high pole on the front of the historical building site.
At Cincinnati Custom Signs, we are passionate about making your business successful. We take pride in creating your business' most important form of advertising … your signage. We know that your "Significance starts with a Sign." Your significance as a company in your market can easily be under-minded by a sign that either does not match the quality of your products or services, or does not match the type of company that you desire. We would be glad to assist you in creating your ideal sign.
We are located in Cincinnati, OH, and we encourage you to visit us and let us show you examples of our materials, sample signage, and our facility.
If you have any questions about this recent project or any of our projects, contact Cincinnati Custom Signs today, and we will put you on the path to a custom sign solution!