Product: Monument Signs 
Location: Cincinnati, OH
Client: The Views of Mt. Airy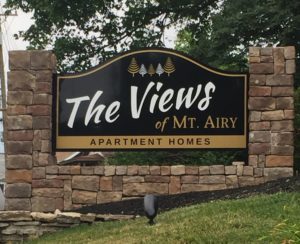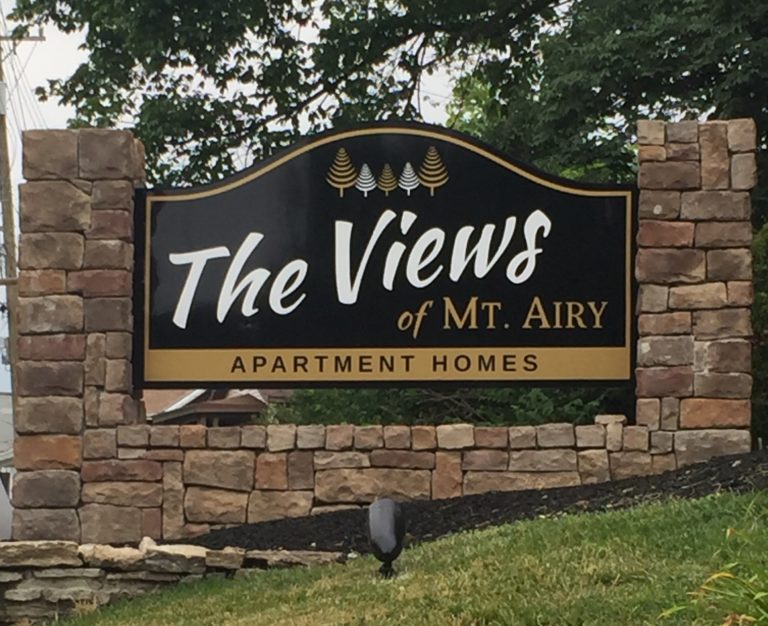 The Views of Mt. Airy is a well-established apartment complex that has recently upgrade their suites with features new cabinets and counter tops, new carpet, freshly painted, new ceramic tile and more! This beautiful community is situated high on a hill in the Mt. Airy Forest overlooking downtown.  Along with the investment in their suites, our customer also wanted to upgrade the first impression as people entered their complex. Signs are almost always the first indication of a business's image. An old sign will reflect a company that is struggling or one that has outdated facilities or technology. A high quality sign attracts people to a business because of the positive first impression. It also gives current customers a sense of pride for being associated with the business or, in this case, pride in their homes.
After the client gave us the black and gold color scheme for their colors, our designer went to work creating an extremely attractive design that has a high-quality look and a beautiful eye-catching message. The contrasting color scheme with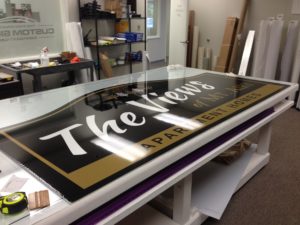 the balanced copy and design was perfect for this sign's purpose.
A great designer can give you a high-quality look with a lower-than-expected price tag. Our designer used an economical aluminum composite material covered with a 3M premium cast vinyl and 3M premium cast laminate. Our client was delighted with both the design and the cost.
Here at Cincinnati Custom signs, we aim to create the perfect sign at the right price for what your business is trying to accomplish. Please give us a call at 513-322-2559 or visited us in person at 2467 Crowne Point Dr., Cincinnati, OH 45241 or visit us virtually at www.cincicustomsigns.com to create your perfect sign.