Product: Lobby Sign and Window Graphic
Location: Cincinnati, Ohio
Client: The Harvest Group
Effective lobby signs can be made of something as economical and simple as vinyl. The Harvest Group, a Bentonville, Arkansas-based company, has expanded their operations once again and opened a location here in Cincinnati, Ohio. They needed a quality lobby sign and a window graphic for their front entrance that would last for the short time frame of a projected 1 to 2 years, until their expansion into more permanent, larger office space.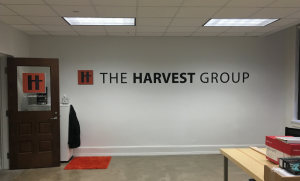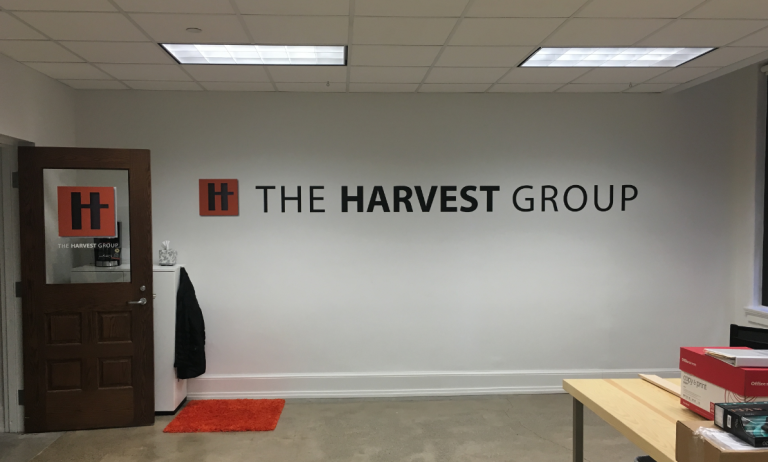 Cincinnati Custom Signs consulted with this company to come up with economical graphics made from premium calendared vinyl printed on our HP Latex 360 printer, and high quality black matte vinyl cut on our high-performance Graphtec cutting plotter. The matte finish of both lettering and logo, and exact color matching to their brand, completed this professional signage. Providing The Harvest Group with the high quality finish they were looking for without the permanency of a dimensional lobby sign that is normally anchored into the wall, proved to be the perfect solution for their needs.
Today's vinyl and Latex printers have come a very long way in the last couple of decades. The combination of technologies achieved in the vinyl market along with the advances with the latest Latex printers produce a remarkably economical and high quality printed vinyl graphic that easily adheres to almost all solid surfaces. In many cases, the proper vinyl can be applied to a surface such as cured painted drywall and can be removed within a couple years with very little damage to the wall.
The HP Latex printer uses precise color management technology to ensure the colors in the logos and artwork are consistent with the expectations of our customers. This high quality printed vinyl is then protected with an equally economical and premium laminate that prolongs the life of the graphic. The combination of the vinyl and laminate, plus the precise color of the HP Latex printer, produced beautiful graphics that The Harvest Group are delighted to show to their customers.
Vinyl is the most versatile medium available to the sign industry. If there is a solid surface, whether it be simple drywall or something as complex as brick, stone, a sidewalk, or countertop, there is a vinyl created just for it. Give us a call to see the latest vinyl on the market. If you can dream up a use for vinyl, it's probably already been created.