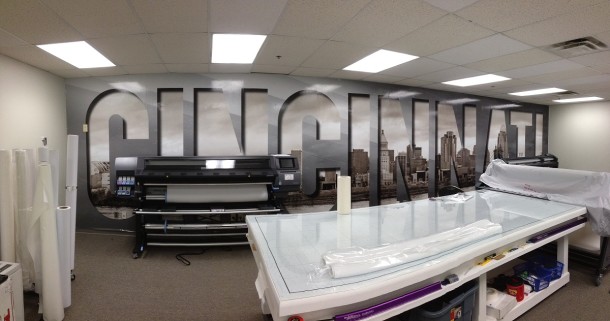 Product: Custom Wall Mural
Location: Cincinnati, OH
There is no better way to show off the superior level of fabrication that we can offer our client than by installing our products in our own office for all of our prospective clients and visitors to see themselves. It is one thing to hear about the exceptional quality of products, and another thing entirely to see it yourself. We had our design team develop a wall mural that would showcase all that Cincinnati Custom Signs has to offer!
Using our Latex HP 360 Printer, the final design was made into vibrant, high resolution panels. This printer and ink are of the highest quality to provide long lasting, bold images. We installed the printed panels by utilizing our own professionals who lined up the panels with the precision needed to make the final high impact piece. The finished wall mural provides a powerful visual image that displays the premium signage we offer and our overall brand to all those who enter our facility.
In the image above you will see the completed wall mural for our production room wall. This sign offers custom color combinations and a design that will appeal to a broad spectrum of clients. It shares the statement that can be produced with a one of a kind wall graphic or mural. Below is another image of the completed project from a slightly different angle. The finished sign displays the modern edge of Cincinnati and the superior quality that Cincinnati Custom Signs has to offer.
Cincinnati Custom Signs is a full-service custom sign and graphics company that specializes in giving clients the best that the sign industry has to offer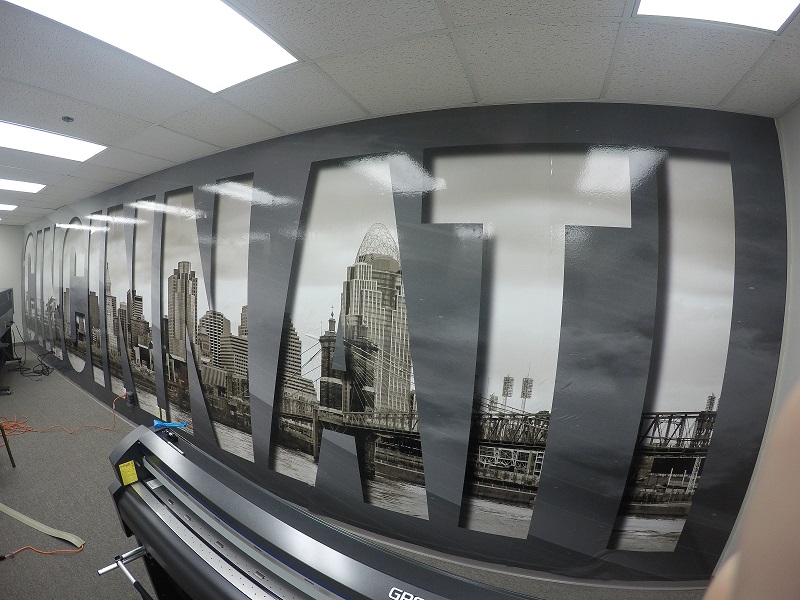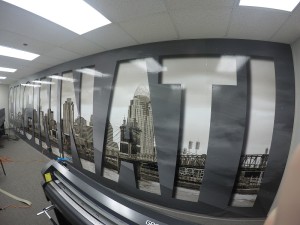 . We achieve maximum marketing results with our premium materials, one of a kind designs, and the latest in printing equipment. We guarantee that your next sign investment with Cincinnati Custom Signs will exceed expectations and bring a signage option that compliments your business's marketing needs, location, and overall brand. Reach out to us today; we can walk you through the steps to plan a custom wall mural for your business!
Do you have any questions about the recent project completed on the wall mural for Cincinnati Custom Signs? Would you like to learn more about the other signs and services that are offered for your company's use? Contact us at info@cincicustomsigns.com, and your next sign package can begin development today!