Product: Monument Refurbished
Location: Cincinnati, OH
Client: Full Range Rehab
Full Range Rehab is an equipment manufacturer that is located in Cincinnati, OH. They moved into a new location and needed a sign to reflect their quality products. However, there was a very old and very permanent monument sign made of concrete already in existence.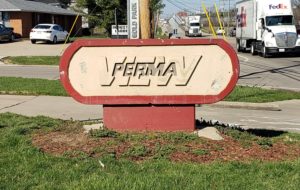 Cincinnati Custom Signs and Full Range Rehab came up with a solution to refurbish this existing monument sign that was not only low cost, but very attractive and accomplished the goal of the customer.
We started by painting the monument sign base with a color chosen by Full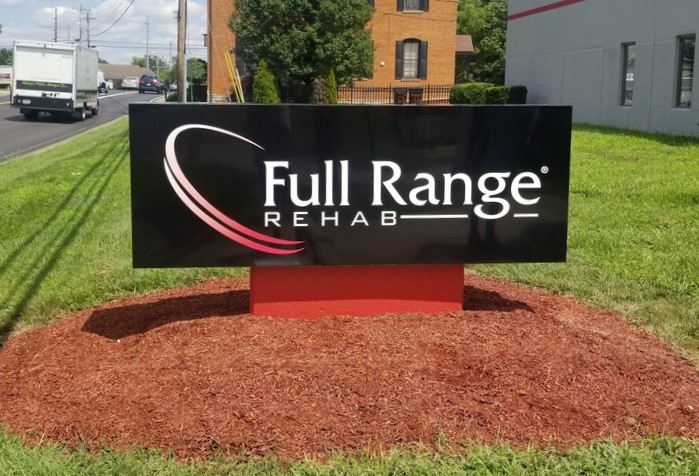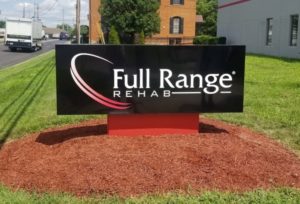 Range Rehab. We then fabricated an aluminum sleeve sign that slid perfectly over the top of the concrete sign. This sign was constructed using an aluminum frame which was welded to the .080 aluminum skin. We attached the frame to the existing concrete sign with a few concrete screws and ended up with a beautiful, high quality sign that properly reflected the image in which Full Range was striving.
The simple, yet sleek sign looks great! It's made with a wonderfully designed logo and a high gloss black background finish. Full Range upgraded the landscaping for a very nice contrast to the sign which makes it perfectly visible from the road.
Here at Cincinnati Custom signs, we want to understand your situation and vision, work within your financial means and come up with the best solution for your signage. No matter what kind of signage you need, we will work with you to understand your needs and deliver highest quality solutions to accomplish your goals within your budget and in a timely manner. Please give us a call at 513-322-2559 or visited us in person at 2467 Crowne Point Dr., Cincinnati, OH 45241 or visit us virtually at cincicustomsigns.com so we can help you create the image that truly reflects your vision and the quality you need for your project.