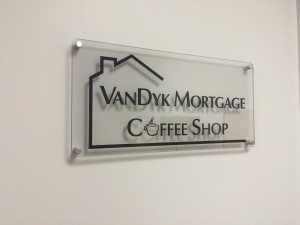 Product: acrylic office signage
Location: Cincinnati, Ohio
Client: Van Dyke Mortgage
One of the best things about investing in personalized office signs, are the multitude of customizing options that are available to your company. Our design team is on hand to assess your business's specific aesthetic, location, and brand to develop a complimentary sign package. Choose from custom color combinations, high resolution images, bold lettering, and stylized designs, when making the choices for your one of a kind sign investment. There are a variety of mediums to choose from, as well. Some of the more common materials used in the fabrication of office signs are wood, acrylics, an array of metals, and vinyl. It all depends on the style and look you are opting for. However, the most common medium that possesses a large amount of customizing options is an acrylic office sign!
Acrylic signs can size your signage to meet the demands of your placement requirements, and alter the style to fit the aesthetic of your company! Choose from custom color combinations, elegant borders, and legible fonts for the fabrication of your sign package. Our design team is on hand to assist you in the tailoring choices that are necessary for matching your sign solution to the location, style, and branding of your business!
Van Dyke Mortgage approached Cincinnati Custom Signs with a need for a custom office sign package, and we were thrilled to begin this new project. Our experts had a plan for an acrylic office sign that would have stand offs. You can see the completed project for Van Dyke Mortgage in the image above. It is a classy sign that is both professional, and offers a high impact statement. The 3-D look draws attention, and will leave a lasting impression with the visitors of their facility.
With so many options in the sign industry, it is vital to have a company that is completely invested in your marketing success. With Cincinnati Custom Signs, you are investing in a company that has made it's mission to provide every client with the exact sign or graphic package that compliments those aspirations perfectly. We are located in Cincinnati, OH, and we service the surrounding areas. Contact us today, and we will share examples of the custom sign options that can catapult your business's exposure to the next level!
Do you have any other questions about our recent project in Cincinnati, OH for Van Dyke Mortgage? Would you like to learn more about the other signs and services that are available for your business's advantage? Call us today, and our professionals will bring you the results you are looking for!